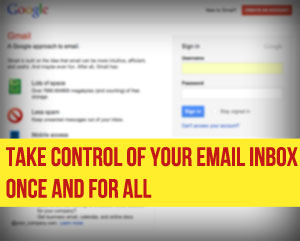 This post is Part 7 of "Take Control Of Your Email Inbox Once And For All" series. Here's the link to Part 1 of the series in case you missed it.
If you've been following along this last week, you now have your email set up to really work for you and reduce the amount of time you spend on email.
Here's a few tips for maintaining your inbox and keeping it a stress-free place in the future.
Play the Email Game to get things back under control
Well all let things go from time to time.
Don't let it bring you down.
If you have Boomerang installed, uset the Email Game for clearing things out again and getting back to where you need to be. This is also a fun thing to use if you haven't finished cleaning out your inbox from the task in day 4.
3 Tips for Maintaining Peace in your Inbox
1. Only check your email when you have time to respond. Deal with everything that hits your inbox first – respond to them, boomerang it, label and archive, delete, or create a new filter for it so it doesn't show up in the inbox again if it isn't supposed to be there. Aim for a clear main inbox every single time, even if you don't respond to everything immediately.
2. Have a set time each day when you respond to emails in the "Respond Inbox" (or twice a day if that makes you feel better.) Respond to everything. If you need to wait to respond to something, boomerang it instead so it isn't cluttering up your inboxes.
3 Set aside some time to browse and delete/archive the "Vendor & To Read" emails when you're finished reading them. These won't take up nearly as much time and since you're setting aside time to do it, it's no longer a distraction to everything else you're working on.
Task for Day #7: Share this Email Series with a friend
If you found this series helpful, please share it with your friends! Link to it on a group or forum that you are a part of, share it on Facebook or Twitter, or pin it on Pinterest. Here's the direct link to the first part of the series for you to use: //www.themoderntog.com/take-control-of-your-email-inbox-once-and-for-all
1. Getting Set Up With Gmail
2. The Essentials of Gmail
3. Google Labs For Photographers
4. Watch Your Email Organize Itself With Multiple Inboxes
5. Two Big Time-Saving Tips
6. Client Management Made Simple With Boomerang
7. How To Keep Your Email Inbox From Taking Over Ever Again
Comments
comments