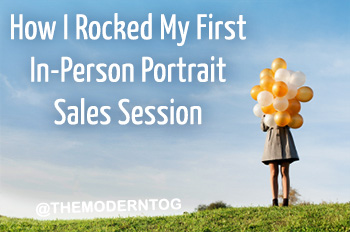 including one here on The Modern Tog
, so people sometimes assume I've got everything figured out. Let me tell you, that can not be farther from the truth!
I'm just like you. I struggle with business decisions, second guess my work, design and redesign my website and then I head to my favorite photography group (Have you joined yet? Because it's awesome!) to get reassurance from others that I'm not totally screwing things up.
Sound familiar?
I've been accepting paying clients for two years now. This week I had my first in-person sales appointment. And not only that, it was the first time I actually offered products to my portrait clients rather than just handing over a disc of images and calling it a day.
We all hear about in-person sales being the way to go so why didn't I make the leap sooner? Simple. I was delusional. I really convinced myself that higher prices and in-person sales may work for some people, but not for me. I was sure that no one in my area would pay $500 for something that cost me only $100 to order for them. And you know what? I underestimated how much people value a quality product and excellent customer service – and I underestimated myself in the process. Does that sound familiar too?
Consider this your smack upside the head! You can do it! Everything I learned about how to do in-person sales was through The Modern Tog's articles and advice from other photographers who were doing it right. So here's how it went.
Preparing for my first in-person portrait sales appointment
Jamie pointed out in part one of her series on "10 Reasons Why You Aren't Getting More Clients" over at Pretty Presets that you have to be willing to invest money into your business. As a consumer, I know that I don't want to buy something sight unseen. At the very least, I need a picture and if I can hold the product in my hand, I'm sold. This is the very reason that I purchased a lens at my local camera store for $100 over the Amazon selling price.
How could I expect a client to spend $500 on a product they couldn't even see? So, the first thing I did was order sample products. I made sure I had a sample of every product I wanted to sell. A mounted print, a canvas wrap, a layflat book, and a set of frame and matting corners.
Next, I needed a visual of each size I wanted to sell so I took Jamie's advice and purchased foam board and cut it down to the appropriate sizes. This gave my client a visual representation of the size she could expect and allowed her to hold it up against her wall to see how it would fit in her space.
Lastly, I needed to display the final images to my client. This was super simple – I just ordered a set of 5×7 textured proof prints.
Delightful Results!
I arrived on time with my arsenal of products. I had taken the time to put together a little ordering folder for my client with all the information she would need. I can't even tell you how giddy it made me to get to see her reactions as she saw her images for the first time. I had never experienced that before and it was a total high.
Naturally, she had questions, but I made sure to really familiarize myself with the products beforehand, as well as what could be altered and what couldn't.
She poured over the proofs, arranging them in different configurations in order to see how pairing certain images would work. In the end, one of the products she purchased was a set of three images framed together – a series of her little boy laughing. I loved how the proofs gave us the freedom to try out different arrangements.
In addition to this, she also purchased my most expensive print item! Once I was able to show her the size on her wall and a sample of the product, she was sold immediately!
My idiot moment
As I was filling out the order form for my client and adding up the totals, I had this moment. Not an Oprah "ah ha" moment. It was more like a Homer Simpson "doh" moment. I could not believe I hadn't done this sooner. My client was just waiting for me to guide her through the ordering process and offer my expert opinion!
I walked away from this experience supremely confident in my ability to be a businesswomen. With this one client I made FIVE times what I made per client in the past. FIVE times, people! And this was my first time! Had I been doing in-person sales for the entire two years, I'd potentially have had 5 times as much income.
So, really. What are you waiting for? Do I need to smack you again? What is holding you back? Leave a comment below.
Comments
comments