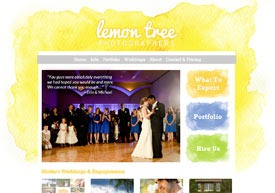 If you want to attract new clients online, it's absolutely essential that you blog regularly.
Search engines like Google will lower your rankings in their results if your website isn't being updated regularly.
But what do you blog about when you've already blogged all your client work and don't have anything to blog about.
Please don't blog post after post of your own kids. People notice. And certainly do NOT try to make it look like they aren't your kids or that it was for some paying client. A post here and there is fine, but when you're doing it to "pad" your blog, it sticks out like a sore thumb.
So what do you write about?
Here's a list of several topics you can blog about when your photography business is slow.
Blog your best images from the past year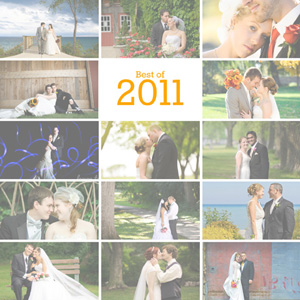 I milk this for all it's worth and split it into categories.
I just posted my Best Wisconsin Wedding Portraits of 2011 and I'll be doing similar posts for our best wedding moments, engagement photos, getting ready images, reception images, and ceremony images.
If I don't get to all of them on time, then I'll consolidate a bit, but you get the idea.
My goal is to go through and create all these posts in one sitting and just schedule them to launch every few days thereafter since I'll already be going through the images. You can do this with most blogging platforms, and it's a very lovely thing.
Educate your clients
The more you can prepare your clients for their shoot, the better it will go.
Give them tips that are within their control to help get them better photos.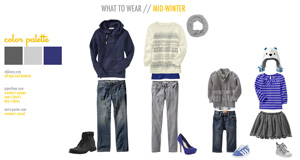 For weddings, write about how you'll get nicer photos if you select a bed and breakfast with lots of natural light to get ready at as opposed to getting ready in the church basement where everything is super-dark with awful lighting and the decor looks old and dingy.
For portraits, put together some "What to Wear" posts. People want to look their best in photos and often do not know what looks best.
Not only can you tell them things about preparing for the shoot, but you can tell them about what to expect when working with you and all sorts of goodies that make the process run more smoothly.
Client Testimonials
It's almost shameful how much I enjoy getting emails and notes from clients about how much they loved working with us and how much they love their photos.
I actually have a folder where I save all these things to look back on when I'm feeling discouraged or burned out. I reread these things far more than I should.
So when you get one of these awesome notes, ask them if you can share it. If they love you (and they do) they pretty much always say yes.
It may seem weird to post it, but just start by saying you received this awesome email from a client and had to share how much they loved their photos. Then post the note, add a photo or two and a link back to their session if you've already blogged it, and just leave it at that.
These are insanely powerful posts for helping you book more clients, so don't be ashamed to let people know that your clients thing you're seriously amazing.
Vendor Features
Talk up the vendors you love and network with.
Beauty salons, makeup artists, DJ's, caterers, anyone you've networked with that could provide value to your clients.
Tell them you're doing it. They'll send some traffic your way when they brag about it, and they'll be more likely to think of you the next time they know of someone who needs your services.
Venues You Want To Shoot At
The best way to find clients who want to shoot at a particular location is to blog about the location and mention how you think it would be a great place to shoot.
This is especially great for wedding photographers.
Couples often pick the venue before booking the photographer, and so when they're searching the web for photos of venues, they're more likely to find you before they were even looking for a photographer.
I've seen this happen recently with my Homestead Meadows Farms Wedding blog post.
I hadn't heard of the venue before shooting there, but I've had a number of inquiries from couples considering getting married there who fall in love with our work.
SEO hint: Put the name of your venue in both the title of the post AND name your images using it. It'll help you show up higher in the results.
Personal Projects
Take some time during the slow season to do some shooting just for you.
Share this on your blog. Show people you do this because you LOVE photography, not just because you have a camera and you're trying to make a few extra bucks.
It's also an opportunity to shoot in a style that you might not normally shoot, and it may draw in the type of clients you want who are attracted to that look.
Product Spotlights
Photograph those gorgeous sample albums you purchased. Show them off. Tell your clients why they NEED to have one and how they can contact you to place their order.
Take pictures of the beautiful canvases you've just got in and talk about why they are so valuable and stunning and worth the big bucks to have them.
Want to sell a metal fine art print? Do a post about it. Tell them how they will impress all their family and friends by having a piece of wall art that is both meaningful but also artistic.
Whatever it is that you're wanting to sell, show it on the blog. People will start to feel like everyone gets one, so the question in their mind becomes "Why wouldn't I get this?" instead of "Do I really need anything other than a few 8x10s?"
Then when you meet in person and show it to them, they'll already be familiar with it and start falling in love with it even more deeply.
Theme Posts
Create posts that are based upon a theme but pull in photos from various shoots.
For example, post about wedding dress fashions, flowers, cakes, colors, shoes, details, props or anything that you tend to shoot often and can group together.
For weddings it can be like your own little mini planning guide to help your brides.
Anything that both helps your client and showcases your work is golden.
Promotions & Deadlines
Remind your clients when the cutoff is for getting their images and products before big holidays like Christmas, Valentine's Day, and Mother's Day.
Tell them about any promotions you may be having.
These are great things to put on your blog to help keep your clients informed.
You might also run a contest like the one I'm doing in the portraits post I linked to in the first idea. It can be a great way to drive traffic and new visitors to your site.
What are some of your favorite things to post during your slow season?
Leave a comment below and share your ideas. I'm excited to hear what you've come up with!
If you found this post helpful, sign up for business tips via email to help you grow your photography business.
Comments
comments