If you're not using testimonials in your marketing, you're missing out on some powerful free marketing that can get you more clients.
Testimonials show prospective clients that you have lots of people supporting your photography business and it helps them feel more comfortable investing in you as their photographer.
Things like Facebook are fantastic for this, because people know you're not just making these things up. (Yes, there are some shady people who make up their own reviews. Don't be one of those people.) They can see the comments about how much people loved the photos you took for them and how much they loved working with you.
Lots of photographers have a little section on their blog or website with "Raves" that has lots of these little testimonials. The thing is, this page may never get looked at.
You're taking one of your most powerful (and FREE!) marketing tools and hiding it on a single web page where no one may ever find it.
I'm going to tell you how to leverage testimonials and reviews and use them to get more clients, and I'm even going to share my very best secret for getting the exact type of testimonials you need to turn prospective clients into paying clients.
First things first, are you worthy of good reviews?
The best reviews come from people who are thrilled beyond belief with both your products and your service.
(Or they come from you Mom, but don't put her reviews on the site. Seriously. I know you'll take anything you can get when you're starting out, but this is a bad way to go about getting them.)
While it's great to get testimonials about how beautiful your images are, it's even better to have reviews about how amazing it was to work with you and how your customer service was outstanding.
People flock to businesses with amazing customer service. So make sure yours is top notch and that you're always surpassing your clients' expectations when interacting with them.
The most effective places to put testimonials on your website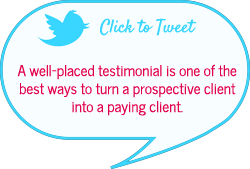 The most effective places to put testimonials are places where people may have hesitations or asking themselves if they should book you. Testimonials speak to your client's hesitations, even before they realize they have them, making your business a more compelling choice in their minds.
A well-placed testimonial is one of the best ways to turn a prospective client into a paying client. Let's look at these places.
On the front page of your site
When people first come to your site, they're trying to decide if you'd be a good photographer for them, and you NEED to have a good first impression or they'll just click away. I want them to see a good testimonial right away because I want their first impression of us to be a positive one. So when you visit our wedding photography website, you'll see a slideshow on the homepage that has 3 images with a testimonial on each image. Here is one of the photos (click to visit our Madison Wedding Photography site and see the entire slideshow).
Onn info pages and FAQ pages
Another place that I put a testimonial is after the page I created called Your Roadmap to Fabulous Wedding Photography. It walks them through the booking process and then at the end shows them a Facebook status with all sorts of gushing comments. This implies that if they book us they'll get awesome results and their friends will write all sorts of great comments about their photos too (and we all love comments on Facebook). Here's what they see:
On your pricing page
Finally, the last vital place that I suggest using testimonials is on your pricing page. I'll talk about that in the next section.
What kinds of testimonials are the most powerful?
As photographers, most of the testimonials we get are going to be about how beautiful our work is. This is great, but the most influential testimonials are the ones that speak directly to someone's hesitation and convinces them that it isn't a problem when working with you.
For example, when people are looking at your pricing page, they wonder if they can afford you. This is a great place to use a testimony about how you were worth the price. For example:
"Lemon Tree Photographers were by far the best investment we made in our wedding day, giving us amazing images that bring us back to our wedding day each time we look at them!"
Just as they're wondering if you're worth the price, BAM! They're hit with a testimonial that tells them that it's worth it and they won't have any regrets.
See how strategic you can be with these? So much more powerful than hiding them away on their own little page where no one may ever look at them.
The secret to getting the very best testimonials
So how do you get these perfect testimonials?
Ask for them. But be strategic about what you ask.
If you come right out and ask "hey, could you write about how we were worth the money?" it's going to sound fake, even if they are glad to write it and mean exactly what they are saying in their testimonial.
Instead, ask them leading questions that will give you the testimonials you want.
Create a survey for every client to fill out after working with you. Not only will this give you great testimonials, but it will help you improve your service and learn exactly what your clients think about working with you. Some of the answers you get back may be difficult to hear, but it's the only way to improve and move forward so take both the good and the bad and do your best to keep improving all the time.
If you want a quote for your pricing page like the one above, you might ask the following leading question:
"Do you feel like the images and service you received from Lemon Tree Photographers was worth what you paid for it? How so?"
A natural answer would be:
"Lemon Tree Photographers were by far the best investment we made in our wedding day, giving us amazing images that bring us back to our wedding day each time we look at them!"
There's a perfect testimonial for your pricing page.
Or maybe you have clients who feel self-conscious about how they look in photos and you want to use a testimonial to assure them that they'll look fantastic. Ask them, "How do you look in your portraits compared to how you normally look in photos?"
They may answer:
"I never like the way I look in most photos, but you made me look absolutely stunning!!!"
See how easy it is?
Sit down and think about all the hesitations people may have while considering your work, and come up with 3-5 questions that you can ask them using a client survey that will speak to these hesitations and help people overcome them.
Don't ask clients to answer more than 3-5 questions or they will be annoyed and possibly not finish filling it out. Make it quick and easy. If you have more than 3-5 questions you want to ask, simply create more than one survey and just give different surveys to different clients so that you can get the testimonies you need.
How to create a survey
There's lots of things you can use to make a survey. I LOVE Gravity Forms for this, because it's easy to use right on my website, it's super-customizable, and I can do conditional logic with it. I highly recommend it.
Bonus resource: Check out this link for free speech and thought bubbles (that include free commercial usage!) to make your testimonials stand out even more!
Testimonials are incredibly powerful, so don't waste them. Put them to work for you, and see how it helps you to get more clients.
If you like this post, check out our free e-Book called "5 Common Mistakes That Lose You Business (And How to Attract Your Ideal Clients Like Crazy)" I know you'll love it.
What kinds of questions will you be asking in your surveys? Leave a comment below listing them out and share with everyone. It's a great way to contribute and be part of the community, which is what this site is all about!
Comments
comments