Top 10 Must-Read Photography Blogs
to help you waste less time and know which blogs are worth following, and I thought it might be helpful to do the same thing with my favorite photography business resources out there.
Right now is a great time to pick up a few of these to take advantage of tax deductions for 2012 and reduce your tax bill. Then set aside some time after the holidays to learn from them and implement them to make as much as possible into your business for 2013.

Less taxes to pay in 2012 + more profit in 2013 = Pure Awesomeness!
So let's dive in and look at the Top 10 Photography Business Resources of 2012!
Top 10 Photography Business Resources of 2012
Here they are, with a few bonus resources thrown in for good measure!
This $29 e-book is available as a free gift to everyone who follows The Modern Tog via our weekly email newsletter. Filled with practical tips to make sure you're not losing out on clients and making sure you're making the most of your business. Learn more by clicking here.
If you only buy one digital education product this year, make it this one. It is one of the best resources I've seen all year that will not only help you with your website but will help you to get more ideal clients through every aspect of your business. If you put these tips into practice, you'll easily make your money back several times over. Read more about it by clicking here.
Bonus resource: Need help setting up a Pro Photography Website? Check out this free beginner's guide to creating a pro photography website now.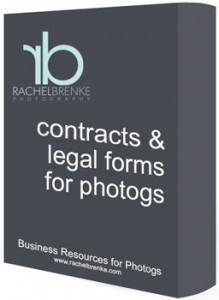 Not a very exciting purchase, but one that is absolutely necessary to protecting your business and personal assets from the worst case scenario. Written by Rachel Brenke, a photographer lawyer who knows exactly what needs to be covered. I can't recommend these highly enough because they'd be priceless if you weren't using them and ran into trouble. Learn more by clicking here.
Bonus Resource: Not sure what you need to know from a legal standpoint when running your photography business? Get this FREE e-book called "The Legal Lens" that explains what you need to know when signing up to follow Rachel Brenke via email. Learn more by clicking here.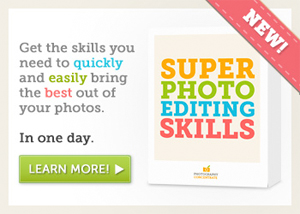 Don't let the quality of your photos keep you from getting business. Learn all the ins and outs to Lightroom and you'll see why I think it's one of the best tools for photographers for editing your photos. Requires Lightroom 4 (worth every penny, and much cheaper than Photoshop). Learn more by clicking here.
Bonus resource: The best way to get gorgeous photos is to know your camera inside out and not need to edit much after the fact. Get Extremely Essential Camera Skills now and make the most of the gear you have!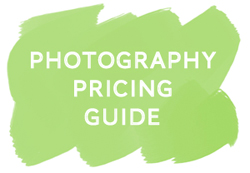 In this Photography Pricing Guide Workbook, YOU determine how much you want to make, add in your expenses and how much you expect to do during the year and it quickly tells you what you need to charge to make the profit you desire.
No confusing multipliers, and lots of flexibility to adjust your desired profit so that you can charge less when you're just starting out, but know how much you need to aim for in order to hit your future profit goals. Perfect for planning out 2013.
Shoot more than just one type of session? It also helps you to price all the different types of services you offer, such as both portraits and weddings together.
A free 7-Part Pricing series will walk you through each step of the guide, as if your own personal pricing consultant was sitting there right next to you. It couldn't be easier. Requires Microsoft Excel. Get it now before the price increases on January 1, 2013. Add to Cart.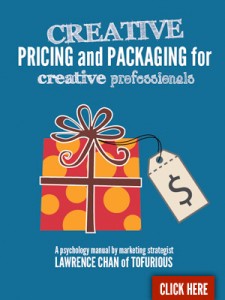 This e-book from Tofurious goes into the psychology behind creating packages and has helped us add THOUSANDS of dollars to our average wedding booking over the last 2 years since I read it and implemented it. I still cannot stop raving about it. If you use a package model, it'll give you the tools you need to make more money through creating smart packages without having to raise your prices. Your results may vary, but I can't imagine you'd NOT make your money back quickly using the principles in this e-book. Learn more by clicking here.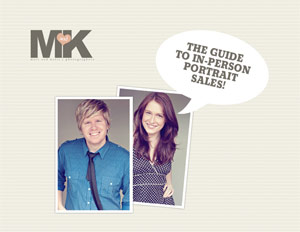 If I were still doing portraits and not just weddings, I would follow this method step-by-step as it is far superior to the method I used to be using for in-person sales. While that was still better than online sales by far, this method is just much smarter and backed by psychological reasons for why they do things and say things.
It's extremely practical with scripts, encouragement for people who hate sales, and it shares all their secrets about how they built up a portrait studio making over a quarter million dollars a year in a small town that was saturated with under-charging shoot-and-burn photographers. Click here to learn more.
Not an educational product, but a product that will ensure you will keep all your client files safe through multiple backups. I highly recommend having at least 2 backups beyond your main hard drive (my 5-7 redundant backups are probably more than you really need!) I love these because they are small, portable, and durable. And at the writing of this post, they are on sale as well. Check them out on Amazon now.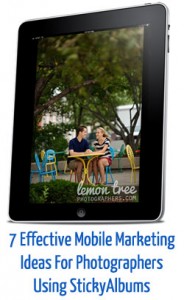 With more and more people getting iPads and mobile devices this Christmas season, it's increasingly important to be one step ahead of your competition and make sure you're using mobile marketing. StickyAlbums allow you to create custom apps for your clients and are a ridiculously fabulous marketing tool. Click here to learn more.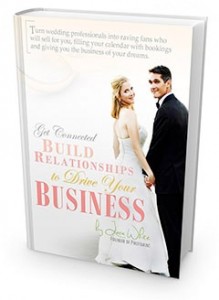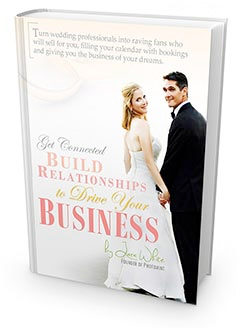 If you're a wedding photographer who wants to get more clients, this e-book is the best strategy I've seen for getting people to refer your ideal clients to you through networking. It doesn't sound exciting, but the tips and practical advice given in this e-book are stinking brilliant and most people completely ignore this avenue of marketing (even though it's one of the most effective methods for booking more weddings.) Click here to learn more.
What are you most looking forward to growing in 2013? Leave a comment below and share!
By using the affiliate links in this post, you're helping to support this site and the info you are learning from it, so thanks much! I appreciate it greatly!
Comments
comments