If you're new around here, the "Best of the Rest" is a post where I sort through all the fluff out there on various photography business blogs and share my absolute favorite and most-helpful blog posts around, saving you time and effort sorting through them all. They are all worth a read.
And don't forget to read to the end to make sure you hear about our big news for what you can expect next week. I'm ridiculously excited.
Best photography blog posts from around the web
7 Non-Money Reasons to Price Your Photography Profitably – Seriously great read about pricing, for those who "wear their heart on their wallet" and hate that money has to be involved in photography businesses at all. Every photographer should read this.
5 Tips to Turning Busy Season Clients Into Slow Season Clients – Who doesn't want more bookings? If you'd like to have a busier slow season with more clients, take Rachel's advice here, because it will help you keep busy during the slow season. She also shares several great resources that I think are fabulous as well.
Wedding SEO Using Venue Keywords – This is the exact same strategy I use when optimizing my blog posts for search engines, and we get lots of clients because of it. In fact, the majority of our inquiries come from search engines. Note to other Wisconsin wedding photographers who are in the same market as me, please disregard this link. I like my competitive advantage. 😉
The Step-by-Step Guide to Paying for Any Workshop – With all the deals and sales coming up next week, and the hundreds of products and workshops you COULD buy, this post will help you know which ones you should invest in and if it is worth it to you or not. It talks specifically about workshops, but I think the exact same points should be used when you are trying to decide on any other resources or ebooks as well.
The Value in Your Photography Business is in Being Able to Book the Job – Todd gets you thinking with this post about getting the booking. It's a great reminder that will make you think and that made me want to re-evaluate what I do to move inquiries into bookings. Great thoughts here.
Top 10 Most Useful Blogs for Photographers – Still want to read more great stuff? Check out these top 10 most useful blogs for photographers. I might be a bit biased in selecting this list, since I'm part of it, but it's got lots of really great blogs to read that I would highly recommend to people. Go get lots of awesome free info from them!
Big News! Read all about it here!
Next week is Thanksgiving here in the US and after Thanksgiving comes the big Black Friday deals and Cyber Monday sales. It's a strange post-holiday tradition that gives you super deep discounts that you generally don't see for the rest of the year.
But the big news is not just about some awesome deals I'm offering (even though I am) because that'd be totally lame and disappointing. Am I right? There's actually 2 parts to the big news.
Big News Part 1: A gift to you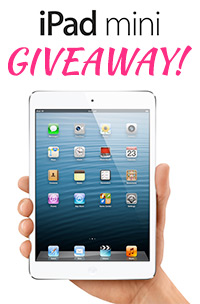 The first part of the big news is that because I'm so thankful for each and every one of you readers, I've decided to give away an iPad mini to one of you as a way of saying "thanks!" for making The Modern Tog as awesome as it can be. I'd never be able to do this without you. Watch for details coming out next week during all the sale announcements.
Big News Part 2: An Exclusive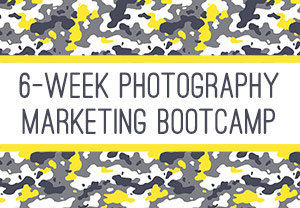 The second part of the big news is that next week I'll be offering an exclusive sale on a product called the 6-Week Photography Marketing Bootcamp that will ONLY be on the market next week and won't be available again until spring when it's released as part of a bigger e-book.
I'm currently writing a marketing e-book for photographers that is going to rock your socks off, and while it won't be ready to launch until spring because it is THAT good, I'm going to be releasing one of the bonuses, a 6-Week Photography Marketing Bootcamp, that will ONLY be available during the sale I'm having next week and will be added to the final e-book as a bonus once it's released. So, the only way to get it until the e-book launches this spring is to pick it up during the sale, then it will be off the market as a stand-alone product forever and will only be available as a bonus with the full e-book in the future.
I'm doing this because I know many of you are entering into your slower season in the next month or two and will have more time to focus on marketing, and I don't want to make you wait until next spring to put some of these things into practice. More details will be coming in the post next week!
Black Friday Sales for Photographers
I am also going to be sharing about all the deals around the web that I hear of, so if you know of something coming up for next week, you can send me the details using this form and then I'll make sure to include them in my post as long as I have it in time. Anything photography-related is fair game. Here's the form:
Be notified about the sales and giveaway via email!
If you want to be notified as soon as it's live, sign up to follow The Modern Tog via our Weekly Email and you'll get the info right in your inbox (as well as a free ebook for signing up!) You can sign up by entering your email here:
Comments
comments