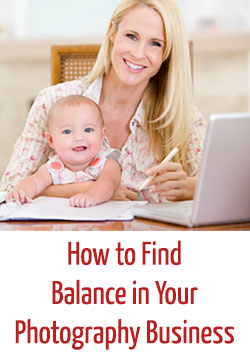 Are you working too much?
I'm guessing the answer is "yes".
You are not alone. It's incredibly difficult to find balance while running a business.
Most new photography businesses are started by people also working another job or who are stay-at-home parents who have a full-time job (plus some!) raising children. Once you do get to the point of going full-time, you still don't have enough time to do everything you want to do to sustain and grow your photography business in the way you want it to grow.
Personally, I've justified all the extra work by believing that "one day" it'll get to the point I want it to be at and I won't have to work as much.

It's a lie. The more you grow, the more time it takes to sustain, and you can't ever really just ignore it without negative consequences.
Yet at the same time, you need to find balance. Your kids are only young once, and life is too short to work all the time. Not to mention the fact that you are utterly exhausted from late-night editing sessions so aren't the person you want to be during the day.
So what do you do? Do you fold? Do you cut back? Do you get an extra job so that you don't have to do photography for the income and just do it for fun?
Let's dive in and talk about how to find balance long-term in your photography business.
Do you really want balance?
The first thing you need to ask yourself is if you really want balance in your life? If you're not committed to finding balance, it won't happen, because frankly it's really hard.
It's easy to say "yes" to that, but let's dig a little deeper and see if that really is the case. Answer the following questions. I encourage you to actually get out some paper and write your answers down. Sometimes the act of writing it down makes us spend more than just a fraction of a second thinking about things and will reveal more to us than we think.
1. Create a list of things that are most important to you in your life, with the most important thing listed first and the next important thing right after. Put them in a column with one item on each line.
2. Now, next to each item, put how much time you spend each week focused on that part of your life.
Looking through the list, are you able to spend the time you need doing the things that are most important to you? Or are you spending a lot of your time doing something that's less important to you than something else because you've convinced yourself that you have to?
For example, it's easy to spend less time doing family activities because you need to do something photography-related that feels pressing, but really you're just making a poor choice.
3. Finally, go back to your list and write down places where you're willing to cut back so that you can move more of your time to the places that you really want it to be. Be as honest with yourself as you can be.
Your marriage, family, friends are worth investing time in. Your kids will grow far too quickly, your marriage/relationship will not survive unscathed if you do not spend time together, and rest is not a selfish goal that you can't afford yourself.
Once you know you really want better balance and have a better idea of what that might mean (and how much you'll need to cut back in what areas), you're ready to move forward.
How to have more time to do the important things in life
Now that you really want balance, you have to be willing to let go of the excuses that are holding you back from the things you REALLY want in life.
You are the one holding yourself back. Change is uncomfortable and difficult, but in this case it will only make your life better. So move forward with boldness.
1. Have razor-sharp focus and realistic expectations
How much time do you actually want to spend working on your photography business? If you only want to spend 10 hours a week total working on your photography business, realize that you can't be doing 3-4 sessions a week, all the editing, all the in-person sales meetings, the marketing, print ordering, and everything else that goes into it. It's simply not possible to do all that on your own in that little amount of time.
Become realistic about your time, then stick to it. It's okay if you grow more slowly than you'd like. Stop comparing yourself to others or to where you think you should be.
2. Learn to say NO!
Do not "squeeze" someone in. Just because you CAN does not mean you SHOULD. Keep your priorities in front of you, and know that they are more important than that client's priorities. Set proper boundaries and stick to them. I give you full permission to say "no" freely when you're feeling guilty about it because you COULD make it happen, even though you shouldn't.
3. Know your numbers and stick to them!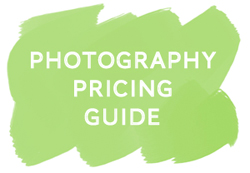 If you NEED to have a certain amount of income from your photography business, go through this free photography pricing series to make sure that you know exactly how much you need to be charging to make your minimum desired profit. Don't make excuses about how "high" this is. It's possible to raise your average sale without losing all your clients, so click to read how if you struggle with this.
4. Let go.
This is the hardest part for me, where I have lots of excuses to keep me from moving forward and truly getting the freedom I want in my business. I expect you may feel the same way.

There are three types of things in your business that have to be done.
1. Things you don't like doing.
2. Things you love doing.
3. The things that TRULY make you the money that ONLY YOU can do.
Make a list of the things that fall into each category. Be ruthless, and be honest.
The stuff you don't like doing will be easy to determine. Finances, scheduling, emails, customer service, etc.
The stuff you love doing will also be pretty easy to determine.
Then there's the stuff that ONLY YOU can do. This is the hardest list to write, because if you're honest, it should be very short. We'll have all sorts of excuses as to why only you can edit, or do sales meetings, or do anything in your business. But I'd argue that the only thing on this list would be shooting. You can hire someone and teach them to edit like you can (don't lie to yourself and say that only you can do it – because others could learn. Let go of the excuses!)
Now, the hardest part of this is learning to let go of everything except the things that truly make you money. Outsource the rest of it.
You might love playing with graphic design, but that takes time and you only have a limited amount of time.
You might say you don't have the money to outsource. Well, if you took all that time that you're spending doing things that don't directly make you money and started doing more of the things that do make you money, you'd have more money.
I realize you can't do this all at once. But you HAVE to ease into it if you're going to find balance. There is simply too much to do in a business for one person to do it all alone and not be taking away from your other priorities.
This is why you have to really WANT balance – because it's super hard to achieve and it's painful to cut back and let go (especially if you're a controlling person like me).
Making a plan to reclaim your time
Let's be real: You can't just suddenly outsource everything all at once. So let's start with the things that will save you the most time and hassle right away so you can focus on the rest. Here's a list of things to outsource that give you your time back.
Bookkeeping/Accounting – The money you'll save by hiring an accountant will pay for the accountant's fees easily. Finding someone who is willing to also do your bookkeeping (basically you hand them a shoebox of receipts and your bank statements and they do the work) is even better.
Editing – I know, you love how you edit. But someone else can do it. It's not as unique as you think, and it can most certainly be taught to someone else to do it for you. You can either work with a big editing company, or even better find an independent person who is willing to learn your style and match it. Many companies, such as Editouch, will do everything they can to match your current editing style. Finding an independent editor may be more difficult, but can be a great way to go as well.
Design – Hire someone to do any graphic design you need, including album design. Many album companies offer a design service, and this will free up a lot of time that you could use to be shooting instead.
Hire a virtual assistant – There are plenty of people who are glad to help you manage your inbox, do customer service, run your social media, and do other online tasks like placing orders or blogging your sessions. You can use a service like Dropbox to have online storage of images so they can be accessed by others to do this for you. In fact, I use the pro version of Dropbox to send photos to my editor and designer and they simply upload the final files right to it so we all have access to them. It's pretty sweet.
You can find a virtual assistant at Elance or oDesk.
These are just a few areas in which you can outsource and reclaim your time, but could also outsource marketing, initial meetings with clients, in-person sales meetings, honestly anything and everything if you REALLY wanted to. The hardest part is accepting that you HAVE to let go, and then making the initial investment where it takes as much if not more time to teach someone how to do something. Once they are trained and have everything down, it's worth every penny and extra minute or hour you spent. I promise.
My own personal journey in finding balance
I've started down the path of outsourcing, and it's incredibly rewarding. Right now I've taken on an editor and designer (and have always had an accountant), but am looking to outsource even more in the following year. It was frustrating at times to find the right person and give them the training they needed, but now that it's all done it's truly one of the best things I've ever done (despite my control issues!)
Why am I doing this?
I'm having a baby in January and want to be able to spend more time with our growing family. Somehow I found myself building two businesses, not just one (wedding photography and this blog) and suddenly my balance went out the window. Frankly, I'm tired and getting close to burn-out and don't want to continue this way.
Not only that, but I truly believe that part of my calling is to help other people, both through the advice I share on this website as well as by hiring them and providing income to them. I want my businesses to be so much bigger than just helping me. Creating jobs is a great way to help the economy in general, and it's a huge honor as a business owner to be able to help others (especially when it can also help you to grow!)
So my goals for 2013 include bringing people onto my team in various ways so that I can have more freedom to do the things that are truly important to me in my life and spend more time snuggling with my new babe and enjoying my family, all while helping others at the same time.
I'm planning on adding a virtual assistant, looking for more guest post contributors (as well as possibly bringing on a regular contributor or two – I know there are lots of you out there with amazing advice to share!) and outsourcing as much as I possibly can so I can spend time on the stuff that is really important to me and my business.
I'll be announcing openings via my email list first, so if this is something you'd be interested in sign up for the email newsletter by entering your email below. I'd love to take on readers who are already familiar with and love this site before announcing them to the general public.
What is your next step in finding balance?
Don't just leave this post with good ideas that don't ever get implemented. Leave a comment below with the very next step you plan to take, even if it's just a small baby step, and let's encourage each other as we reclaim our lives and our balance!
Comments
comments