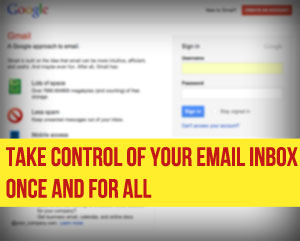 This post is Part 6 of "Take Control Of Your Email Inbox Once And For All" series. Here's the link to Part 1 of the series in case you missed it.
So far this email series has harnessed the power of Gmail to automatically organize emails and save time responding to emails by creating canned responses, but this still doesn't address the times when you need to send a response in a few days but you don't want to forget about it so it sits in your inbox and sometimes gets buried.
Today's tool is the last big piece in the puzzle. We'll be looking at Boomerang, which has changed the way I use email.
Never forget to "follow up later" ever again
Boomerang is how you keep your inbox clear while still remembering to respond to people in the future when you need to.
I'm going to admit something to you. I'm never used to be very good at following up in a timely manner to inquiries after I'd sent them my information to see if they had a chance to look it over and ask them if they'd like to meet with us. I was great at sending the initial information, just not so great at sending a follow up if I don't hear back. I have a better booking ratio with people I follow up with than with those I don't, so I know it's an important thing to be doing. I just forgot to go back and do it regularly enough, and before I know it 2 weeks have passed and they already booked someone else.
This is where Boomerang came in and changed everything.
Boomerang allows you to archive a message for a certain amount of time, and if the person you sent it to doesn't respond within that time frame then it will reappear at the top of your inbox as an unread message whenever you want. This is brilliant.
Now as soon as I see the message reappear in my inbox, I open it up, insert a follow-up response using Canned Responses that I personalize with their name and maybe one other thing, and I send it off. I only do one follow up so as not to annoy people, so I use the "Send and Archive" button and that's the last I have to think about it.
I no longer have to remember to go and follow up with people – Boomerang makes it easy to do it when I want to do it. So wonderful.
Not only that, but Boomerang allows you to schedule messages and send them later. This is handy if someone sends you a message in the middle of the night, but you don't want to show them that you're awake at 3 am working on your business, so you can schedule it to send at 8am or 9am the next morning. It's also useful to schedule payment reminder emails as soon as a client books with you so that you don't have to worry about it later.
It's utterly fabulous.
The only downside to Boomerang is that they limit the number of emails you can send for free after the first month (which is unlimited). After that, it's $4.95 a month if you want to boomerang or schedule more than 10 emails that month.
But honestly if I book one extra wedding per year, or even get one extra portrait client per year because I followed up in a timely manner, it's more than paid for itself again and again.
FYI, If you sign up for the paid plan using one of the links in this post, we both get an extra month free which is pretty cool.
But even if you never use the paid version, being able to use it 10 times a month is still really helpful and I highly suggest it.
Download and Install Boomerang now.
Task for Day #6: Install Boomerang and give it a try
What has been the most helpful email tip so far in this series? Leave a comment below and let me know. Then check out Part 7 of the series by clicking the link below!
1. Getting Set Up With Gmail
2. The Essentials of Gmail
3. Google Labs For Photographers
4. Watch Your Email Organize Itself With Multiple Inboxes
5. Two Big Time-Saving Tips
6. Client Management Made Simple With Boomerang
7. How To Keep Your Email Inbox From Taking Over Ever Again
Comments
comments