When you post a link to your website Facebook, does it show the image and information that you want it to?
If it's grabbing some random image or logo, it isn't nearly as appealing to potential clients who may see your link on Facebook than something more stunning and remarkable.
If not, it's super easy to change. You can easily tell Facebook exactly what image to post, what you want the headline to be, and what the description should be underneath the image.
I put this video together specifically for a challenge group that I recently lead, but people found it so helpful that I decided to share it here as well. If you find it helpful, would you please share it with other photographers you know? Thanks!
Here's a few additional tips to make this as effective as possible:
1. Use an image that will strongly resonate with your ideal client.
The more strongly it appeals to your ideal client, the more likely they'll be to click through and view your entire website.
2. Write your headline for the people viewing it, not for SEO reasons.
While putting your location into the title of your website page or post can help you rank better in search results, the headline of your Facebook link is better off being a clear defining statement sharing what kind of photography you do, what makes you stand apart from others, and/or helping people understand who your ideal client is.
For example, you might put something like, "Whimsical Wedding Images for the Rustic Bride". This tells you exactly what style of images to expect, what kind of photography you do, and who your ideal client is. If someone considers themselves to be a rustic bride or has a friend who is planning a rustic wedding, they'll be more likely to resonate with it or share with the person they think will really love it.
3. Add a call to action in your description.
By telling someone that they should "click now to learn more" or some other specific instructions, they'll be more likely to actually take that action and visit your website.
I know it seems obvious, but studies have shown that telling people exactly what to do makes them more likely to do it.
Want to revitalize your website to get more clients?
I've put together an ebook that shares lots of specific tips like the one in this post to help you create a website that gets more clients.
For those of you who are just starting out, you'll learn everything you need to know to start and create an effective photography website, from step-by-step instructions to the resources I recommend using to do it.
You'll also learn how to optimize every single page on your website to make it as effective as possible.
Introducing my new ebook called "START HERE: The Photographer's Guide to Building a Website that Gets Clients". But it's not just a book for beginners. If you want to optimize your website to get more clients, this ebook is for you!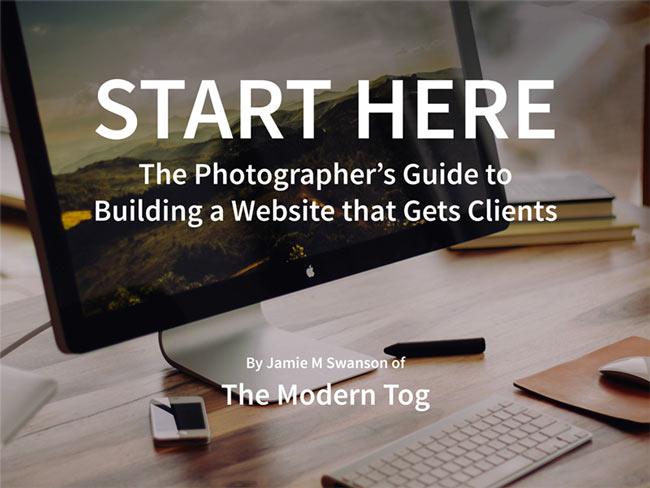 In my new ebook, you'll learn:
How to create a Home Page that helps you stand out from your competition
Two specific tips that most photographers aren't doing when creating their Portfolio that will help increase your booking rate
Why your About Page should not primarily be about you and what it should be about instead
Why only blogging client images is not very effective
How to get new clients from your blogging efforts
Almost 40 effective blog post ideas for getting more inquiries
The main things you need to know about how to show up in search results
The one SEO tip that will never be outdated
How to keep your website updated without it consuming all your energy
Much, much more!
Comments
comments