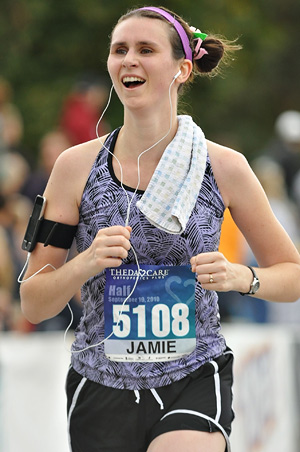 If you would have told me one year ago that I'd have run a half-marathon and be in training for my second one, I'd have bet everything I have against it.
But sometimes we do foolish things that we never think we will. Like start a business, for example.
I was in track in high school, but I was mostly a jumper and did sprints occasionally as well. I was an especially awesome triple jumper, and I really loved it. But I could never run long distances. My lungs just couldn't handle it. I tried a few times and pretty much felt like I was going to die every time I did so.
Then I attended college, got married, had 3 kids within 4 years of each other, and didn't run at all for about 10 of those years. Until last year.
I'm really not sure what got into me.
I think it was because it seemed like everyone I knew was running a half-marathon, including some friends around me that were clearly not runners. I think it was this post by Becky Earl (one of the most amazing photographers I've ever seen) that finally pushed me over the edge. I decided to run a half-marathon in September. I wanted my body back, and I wanted the accomplishment of doing it. While I wasn't overweight, I was not fit at all. I am not one of those people that enjoy exercise.
So I made up my mind to run the half-marathon. And I started to run. My first run was only a mile, and it took me 13-14 minutes to run it. I wanted to die. Yes, I'm melodramatic, but that's how I roll. I found a training schedule by Hal Higdon that I decided to follow, and I had 3 weeks to get prepared to start that first week.
It was hard. I'm not going to lie. But here's 6 business tips I learned in the process.
1. Stop thinking so hard and just jump in!
I wasn't planning on doing a half-marathon ever. It wasn't some lifelong dream of mine. I simply kept hearing about people I know running one, and something in me wanted to do it too. I could come up with 100 reasons why it was a bad decision and why I didn't think I'd be able to do it. We had 3 little kids, I had a full-time job, a photography business that I was trying to grow so that I could leave the corporate world, and I simply didn't have time for the commitment. All these things and more.
But something in me wanted to do it. So one day, I simply decided to do it. I told my husband. He was in shock (I told you, I'm not someone who usually exercises and he knows I hate running.) I signed up and was committed.
Maybe you're considering starting a photography business. Maybe you're thinking about taking your existing business in a different direction, or leaving that full-time job. At some point, you will know what you need to do and will need to stop thinking so hard and just go for it. It might be crazy, you might not be able to do it yet, and you may fail, but you'll never know if you don't try.
2. A business plan is essential
One of the first things I did when I decided to run the half-marathon was to find a training schedule. I have no idea what I needed to do to prepare for the race, so I looked to those who went before me to help me.
While it's an awesome leap of faith for some to start a business, if you don't have a business plan you'll find yourself floundering around wondering why you're not going anywhere. You may make progress, but it's nothing like the progress you'll make with a focused plan.
Think about where you want the business to go in the best of circumstances. How much do you want to make? What do you enjoy shooting? What are your goals in starting the business? Your answers to those questions may change as you grow, but thinking them through at the start can help you to avoid wasting time doing things that don't fit your plan.
3. Progress is slow and steady, and you have to push yourself
I certainly didn't go out and try to run a half-marathon the day after deciding to do it. I started at the beginning, running just a bit, and slowly and steadily increasing as my muscles and lungs improved. Every bit of progress required me to push myself. I admit that it happened faster than I thought it would, but it was still pretty steady.
Building your business is the same way. We all start somewhere. We begin to make progress. There are some photographers that start their business and are seemingly "rockstars" overnight, but the majority of us are not going to fall into that category right off the bat so it's best to remember that it simply takes time. Push yourself to keep moving forward. Accept that it will most-likely take you several years to get to the place that you want to be.
4. Some days you just want to quit
I found out through training that I don't really enjoy running at all. I maybe enjoy one day out of each month, but that's about it. Otherwise it's just personal discipline (and the frugality in me that doesn't want to waste the $50 I spent on registration) that kept me going through the pain and discomfort.
You'll have days, weeks, or maybe months where you are down and running the business is no longer fun for you. You'll question if you should be doing it or not. You'll consider that job at the local coffee house.
This is where having a goal is incredibly helpful. Focus on why you started the business in the first place and what you hope to achieve. Then put one foot in front of the other, day after day, and keep working towards your goal.
Even more important is to have people around you to encourage and inspire you. My husband decided to run his first full marathon the same time that I decided to run my race, so we were able to train together and encourage each other. It was great to have someone else there to help push me along when I didn't want to run at all.
Photography can be incredibly lonely. Network. Meet other photographers. Not only will it help you through the hard parts, but they may help you grow your business through referrals as well.
5. It's okay to take a break
There were a few days that I simply skipped running. Not a significant number of runs, and not the long important runs, but skipping a few short runs here and there helped me to come back to training stronger and more refreshed. I was just so beat down and sore that I couldn't make myself do it.
It's incredibly important to take a break now and then in order to keep yourself from burning out. You may need to set down the camera and turn off the computer completely and spend time with your family, or you may need to do some personal work for yourself. If you don't take these times, you'll quickly burn out and be more likely to fall into one of those times when you just want to quit.
6. Run the race you've trained for so hard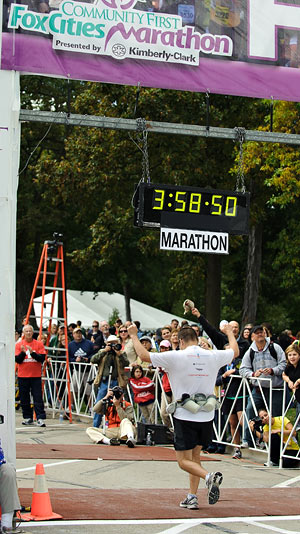 The day of the race finally came.
I had my plan. Start out slow, turn on calming music to keep me from running too fast, turn on the faster music once I hit mile 6 or so, and run the race I had trained for. Don't give up, even if I felt like it.
I expected it to be painful but satisfying to have it done and behind me.
What I hadn't anticipated was the overwhelming hope and joy that I felt. Even standing cold at the starting line under one of the most beautiful sunrises, waiting for the race to start, there was joy and hope. Thousands of people around me, many of them on the course for a good cause or to make the world a better place. It was inspiring. I cried.
I think I ran that entire race with a smile plastered across my face (you can see it in the photo above). It was nothing like I had expected, and certainly wasn't like my training runs. It was truly a spiritual experience for me. Anytime I felt even remotely tired, I simply remembered that I had trained for this and that I could do it. "Let us run with perseverance the race set before us" kept going through my mind. The signs and t-shirts people wore saying things like "I love my Dad" uplifted me despite the pain my muscles felt. So much hope and joy surrounded me. It was crazy (in a really good way).
At some point in your business you're going to reach an impasse. You'll have put in lots of time and effort and will finally be at a place where you are ready to step it up and take your business to the next level. It may be raising your prices to a profitable level, offering something new to your clients, leaving the office job to do photography full-time, or expanding the business beyond where you ever dreamed you'd be.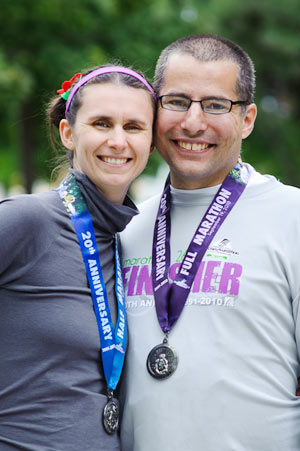 Sure, you could sit and spin your wheels doing things the same way forever, but you'll miss out on the joy and excitement of running the race that you've prepared yourself for. You've built the foundation – now take it and run with it.
Crossing the finish line was amazing and I cried again. Tears of joy, slightly tinged with sadness from the experience being over.
There was excitement about how fast I ran it. I ran it in 2:02, and my goal had been 2 hours and 15 minutes. It's such an amazing feeling to not only have reached my goals but to have surpassed them.
Then to watch my husband finish the full marathon in just under 4 hours was incredible as well (he wasn't even sure he'd be able to run the race at all because of an injury a few weeks before the race).
I knew I had to run another one soon. I set new goals and signed up for another one and will be running it in about 5 weeks. I'm currently feeling burned out and ready to quit, but I know this training will be worth it in the end so I press on.
Reach your goals. Experience the joy and excitement that comes from taking your business further than you ever have before. Then set new goals and reach for them as well. Dream big, work hard, and know that there's joy in doing what you're called to do.
What are you training for? Leave a comment below and let me know!
Comments
comments