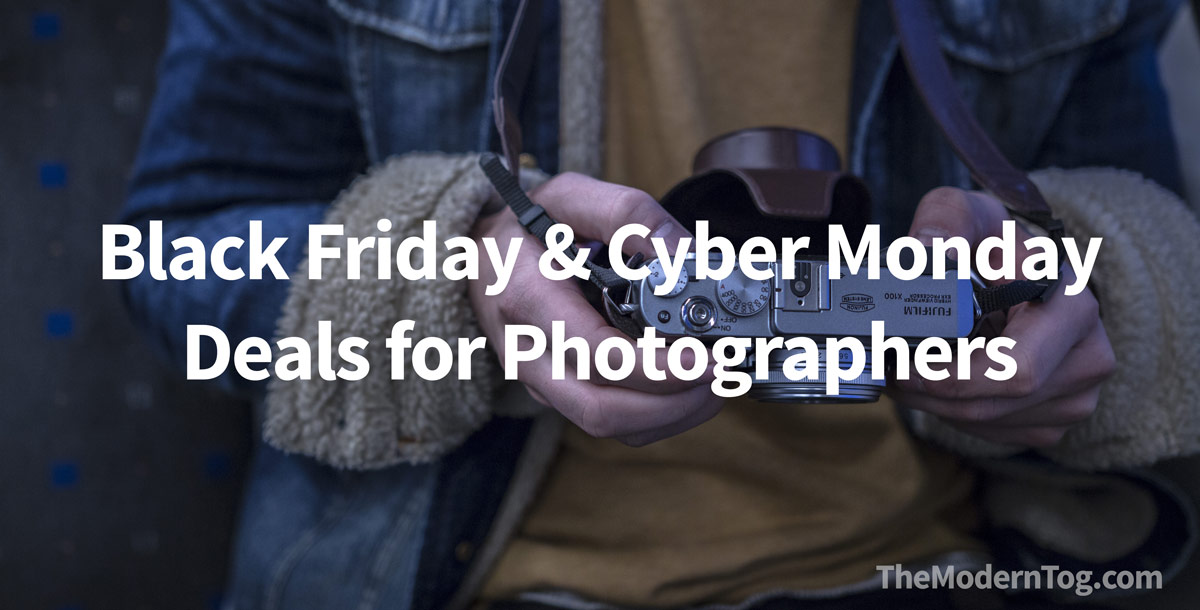 Check out the deals below, buy them and save yourself some money, then tell a friend about the deals!
Thank You!
As always, thank you for purchasing through the links on this site. I receive a commission if you use them (without any extra cost to you), so it's a great way to say "thanks" for the info you've learned here! I appreciate it!
Thanksgiving Sale from The Modern Tog:
Save $50 off (up to 85% off!) all our digital products here at The Modern Tog through Monday, 11/30/15. Check them out here!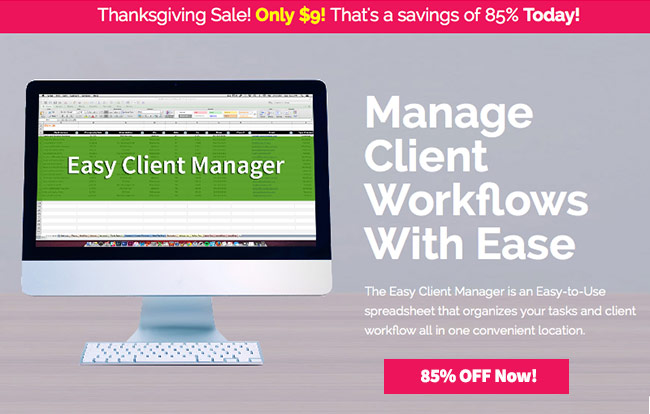 Learn More about the Easy Client Manager
Learn More about the Photographer's Pricing Guide Workbook
Learn More about the Easy Client & Money Manager
Learn More about the Profitable Portfolio Builder
Learn More about the Go-To Guide for Client Emails
Sorry, no refunds or price adjustments on past purchases.
Black Friday through Cyber Monday Photography Deals Around the Web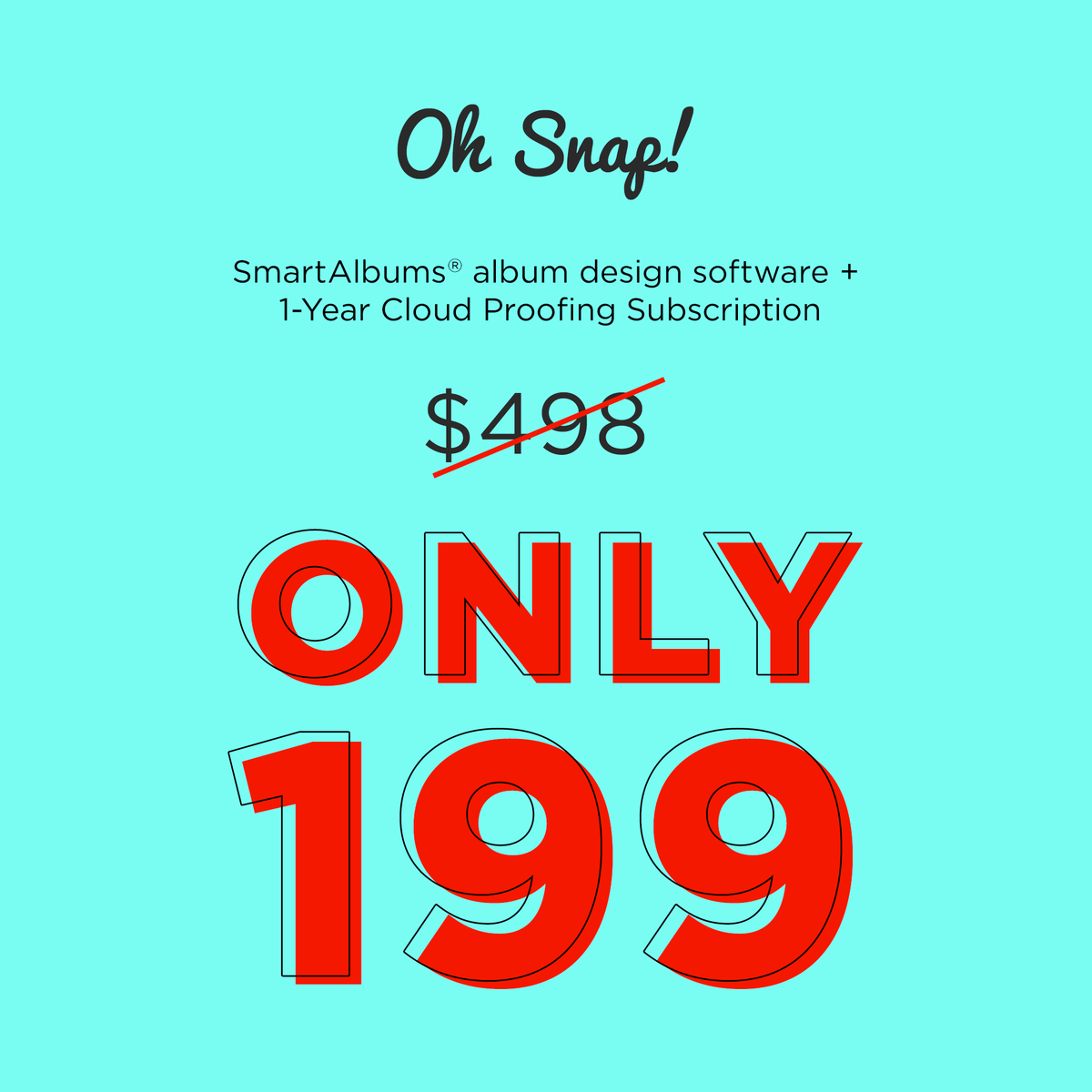 Details: $199 (60% off)
When: Tuesday, 11/24/15 – Friday, 11/30/15
Code: BIGSALE
SmartAlbums is the absolute best tool I've seen for album creation. You can create 30-page album designs in an hour or less, as it's one of the most intuitive and easy to use softwares I've seen.
If you want to increase your sales by adding albums to your lineup but you're not sure if you can make them affordable, this software will help because of how quickly you can whip out an amazing, professional album. Buy it now while it's 60% off. If you're still not sure, click here and read how I use it for successful album sales.
Click here to get this seriously sweet deal.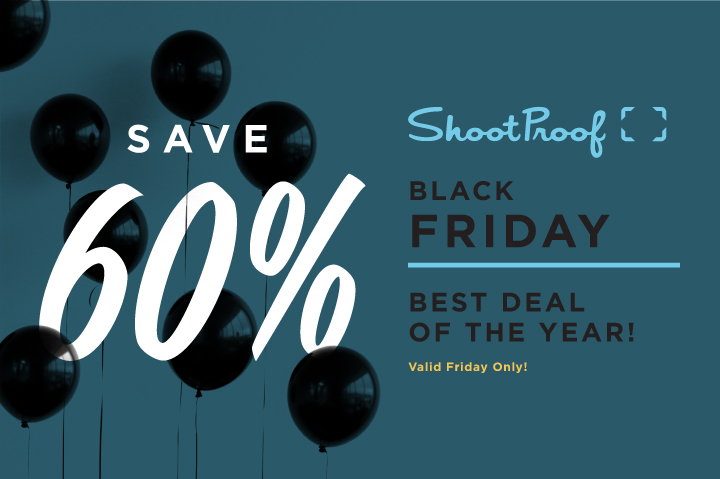 Details: 30% – 60% Off Your First Year of ShootProof
When: Monday, 11/23/15 – Monday, 11/30/15
Code: No Code Necessary
If you want a modern looking proofing gallery that is easy-to-use and offers automation to help you get more sales with less work on your part, sign up for Shootproof. I personally use them and recommend them highly. For Black Friday only, get 60% off your first year, get 50% off on Saturday the 28th, 40% off on Sunday the 29th, and 30% off for Cyber Monday (Monday, December 3rd).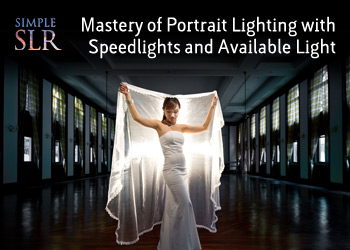 Details: 40% off all products
When: Friday, 11/20/15 – Wednesday, 12/2/15
Code: JAMIE2015
I had to put SimpleSLR's photography guides near the top of my list because the lighting and photography guides are super hands-on with helpful examples and reference charts, and they are ridiculously cheap. I truly believe each of these should be at least double or more the regular price, so with the sale price it's a no-brainer. You can buy all 6 guides in a bundle for only $39 (that's 60% off what you'd pay if you purchased them separately).
I highly recommend them.
Complete Bundle of 6 Ebooks: Get the wedding lighting guide, portrait lighting guide, camera guide, and all three portrait recipe volumes – Only $39 for all (save 60% off full retail price if purchased separately!)
Wedding Photography Lighting: All about wedding photography lighting – save 40%
Portrait Photography Lighting: Portrait Photography lighting guide, plus all three portrait recipes – save 40%
Lighting Bundle: Get the wedding photography lighting guide plus all three portrait recipes – save 40%
Beginner's Camera Guide: Learn how to harness the power of your DSLR by taking it off of auto – save 40%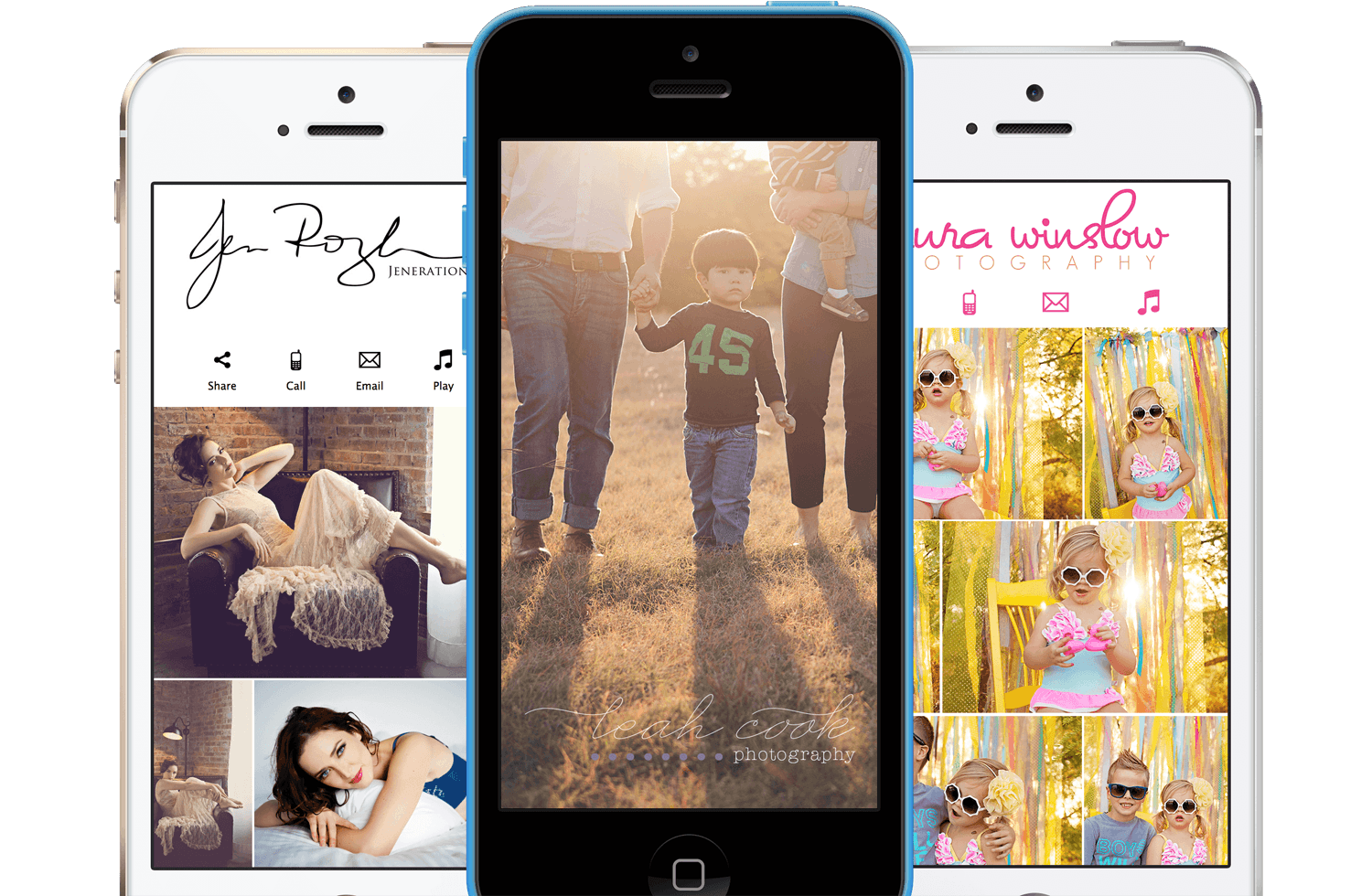 Details: $65 off + 2 months free
When: Friday, 11/27/15 – Monday, 11/30/15
Code: No Code Necessary
People are addicted to their phones. Mobile marketing is a great way to get ahead of your competition, and no one does this better than
StickyAlbums.
StickyAlbums is a mobile app that allows you to make a digital album of all of your clients' images. Clients love it because it's customizable and you can put their picture on the app, and because it makes it super easy for them to show off their pictures to their friends and family. And photographers love it because it makes word-of-mouth advertising super easy for their clients.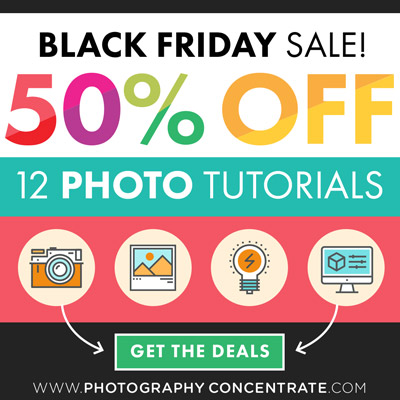 Details: 50% off all products
When: Friday, 11/20/15 – Friday, 12/4/15
Code: No Code Necessary
Photography Concentrate makes extremely practical (and FUN!) photography tutorial guides. They've got guides for a multitude of topics like camera skills and shooting, composition, light, photo editing and retouching, album design, documentary photography, how to backup your photos, etc. I've personally used their guides before and love them. Their guides are all super reasonably priced to begin with too, so 50% off is a steal.
While all their guides are good, I especially recommend the Fantastic Fundamental Light Skills to learn how to see light better (and have more control in all lighting situations) only $17.47 and Backup or Die, which will walk you through how to protect your images from hard drive failure (which will happen eventually if you are a photographer long enough!) for only $9.97!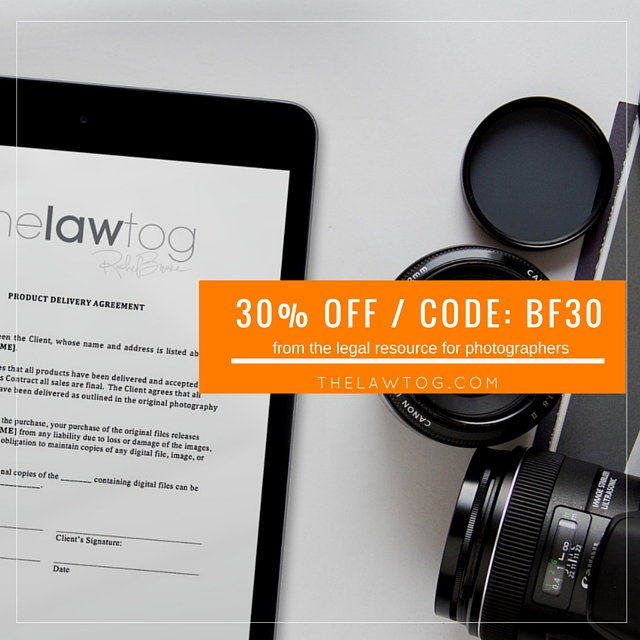 Details: 30% Off
When: Friday, 11/27/15 – Monday, 11/30/15
Code: BF30
Rachel Brenke, author of the Law Tog, is a Photographer and Lawyer who offers legal products for photographers at a fraction of the price you'd pay an attorney to draft them from scratch for you. She has everything from contracts for portrait and wedding photography to school portrait and commercial photography and sales tax guides to shed some light on the laws in your state. If you don't have a contract or aren't sure how tax works, now's the best time of year to pick them up (because saving even more money than usual rocks!)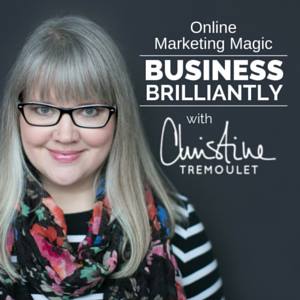 Details: 50% Off
When: Monday, 11/23/15 – Monday, 11/30/15
Code: No Code Necessary
Business Brilliantly: It is time to start doing Business Brilliantly – and this program with Christine Tremoulet will help you come up with a solid plan for your blog & social media, a clear picture of the client that you want to work with – and how to reach them – and a push to get you rolling.
No more intimidation by those blogging & social marketing tasks – you will no longer resent, avoid, or just plain not understand them when you're done!
Details: 25% Off All Themes
When: Monday, 11/23/15 – Sunday, 11/29/15
Code: MODERNFRIDAY
Flothemes makes gorgeous, mobile-friendly websites for photographers. Not only are they great at showing off your work, but they also come with a ton of features, including the ability to upload blog posts straight from Lightroom. I highly recommend them if you are looking for a professional photography website but aren't sure where to start.
Click here to get the deal.

Details: $50 – $109 Off
When: Friday, 11/27/15 – Monday, 11/30/15
Code: No Code Necessary
Jenika from Psychology for Photographers is down-right brilliant, and her products are full of practical information to help you make more money. She rarely does sales, so I highly recommend picking them up now. If you put what you learn from them into practice, you will make far more money than you pay for them. Worth every penny, even at full-price (or more).
Irresistible Website: Regularly $159, sale price $109 – save $50
Irresistible Words: Regularly $249, sale price $199 – save $50
Business Library Pack (bundle): Retail for both would be $408, sale price $299 – save $109
Details: 50% Off
When: Monday, 11/23/15 – Monday, 11/30/15
Code: No Code Necessary
Boudie Shorts makes some of the best products for boudoir and portrait photographers on the market. Everything from how to market boudoir, shooting and lighting techniques, and even tools for how to build your portfolio without working for free (yes, it's possible!). Each day of the week leading up to Black Friday all the way through Cyber Monday she's featuring a different product for 50% off. But it's only available for that day! You can check out her products here to see everything she offers.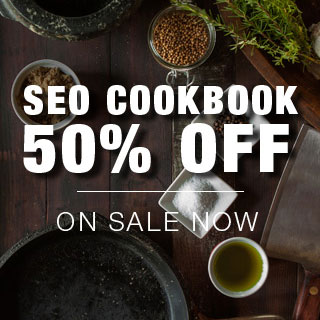 Details: 50% – 60% Off
When: Friday, 11/20/15 – Tuesday, 12/1/15
Code: No Code Necessary
Zach Prez has helped thousands of photographers get more clients and make more money. He's got great advice and presents it in a way that is super easy to understand, even if it's a bit technical. And on top of that, he's also a super nice guy. Check out his stuff below.
SEO Cookbook for Photographers: Regularly $99, sale price $49 – save 50%
SEO Course for Photographers: Regularly $299, sale price $119 – save 60%
Details: 25% Off + Free Shipping for US, Canadian, and EU Orders
When: Thursday, 11/26/15 – 11:59PM ET Friday, 11/27/15
Code: BLACK25
Photo Flash Drive makes really awesome, custom flash drives that add a great personal, high-end touch to your clients' orders. They make more than just flash drives too, and even make custom boxes and containers, gift boxes, album boxes, and tons of other great stuff.
Best part is, there's no minimum order. So you can order a custom drive for each and every client you have if you want to. Pretty cool.
Details: 30% Off
When: Friday, 11/27/15 – Monday, 11/30/15
Code: BlackFriday2015
If you've been trying to get into in-person portrait sales but don't want to come off like an 80's high-pressure car salesman, Matt and Katie's guide to In-Person Portrait Sales is where you want to start. Learn the ins and outs of in-person sales, including suggestions for package pricing, what to say and when to say it, and even how to set up your sales room.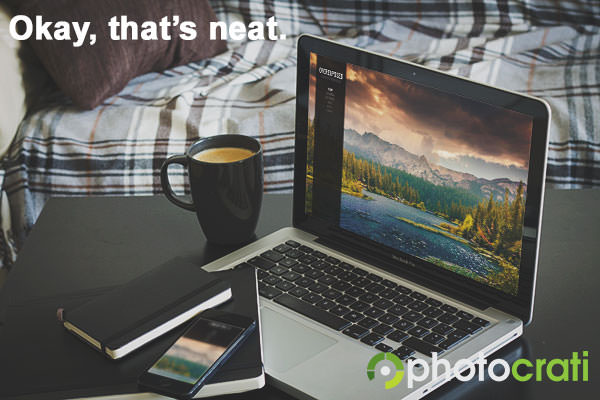 Details: 40% Off
When: Friday, 11/27/15 – Monday, 11/30/15
Code: No Code Necessary
Photocrati's website themes are built for photographers with some amazing built-in SEO features so you can make sure you get found by your potential clients. There's also built-in eCommerce options so you can quickly and easily sell your photos. Plus, each theme is mobile friendly, which is absolutely essential if you want to be found online when people are searching for a photographer.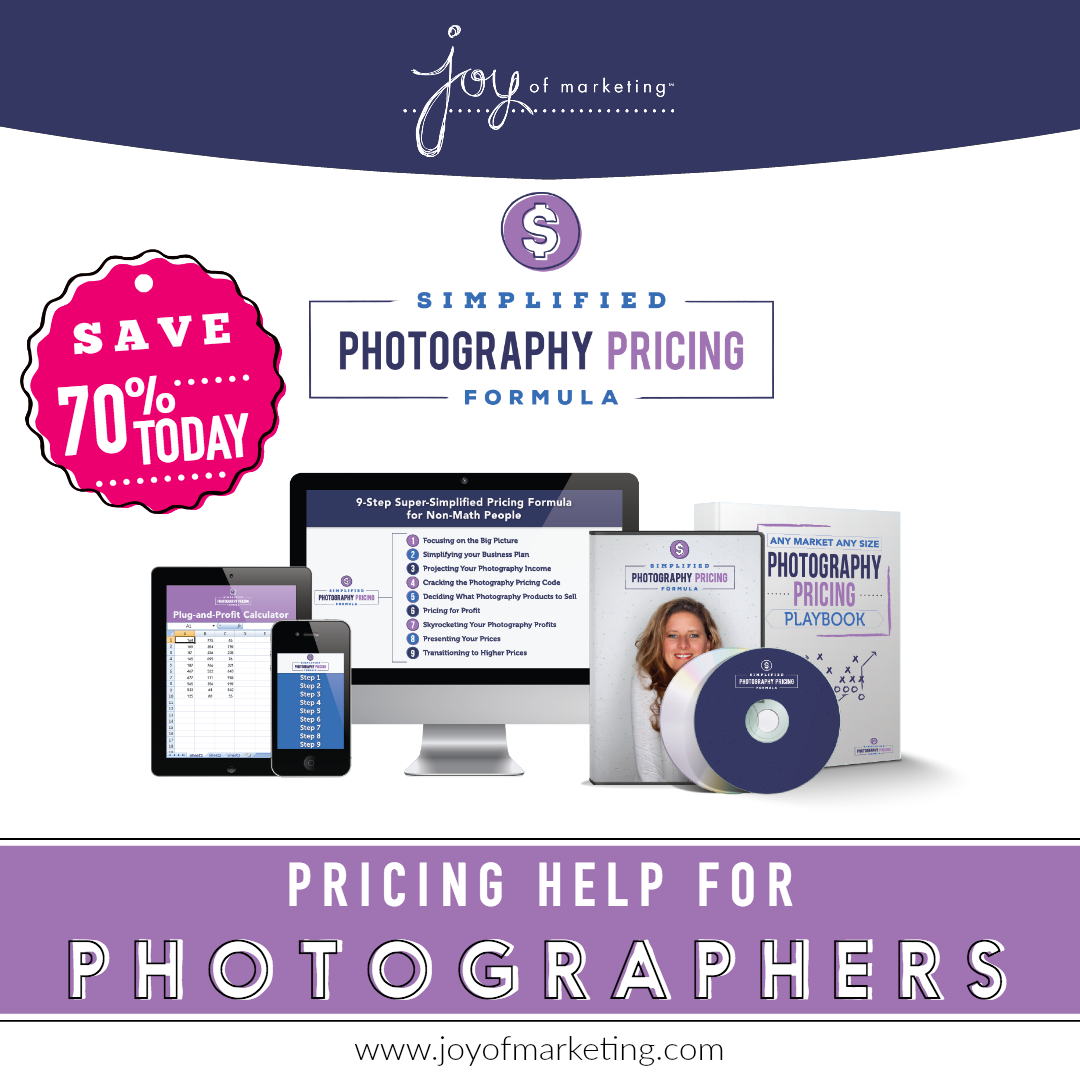 Details: 70% off the Simplified Photography Pricing Formula
When: Wednesday, 11/25/15 – Monday, 11/30/15
Code: No Code Necessary
In this 9 module webinar course, you'll learn how to set profitable prices so you can move on and make a living doing what you love…..Photography! Not only will it help calculate the numbers, but you'll learn pricing strategy that will help you get more clients and make more money for the lifetime of your business. This course is normally $799, but right now you can get it for only $239.70 (that's a savings of over $550!)
Details: $10 Off
When: Friday, 11/27/15 for 24 hours only
Code: No Code Necessary
YouProof is an in-person proofing app, which is perfect for in-person proofing and sales sessions. It's portable too, and works great on portable devices like iPads. You can even take down their order and email copies of the order right from the app.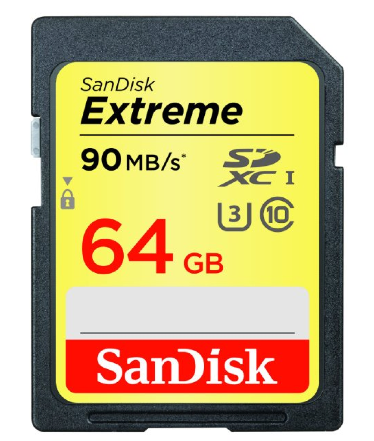 Details: Varies
Code: No Code Necessary
Amazon has a ton of deals for photographers, like these cheap SD cards (you can never have too many!). Check them out now, and browse around to see the rest of their deals.
Details: Varies
Code: No Code Necessary
Adorama has a ton of camera and photography gear. Lighting, cameras, lenses, accessories – really, anything you could almost ever need. So if you've been eyeing a new lens or a new softbox, now is the time!
Comments
comments