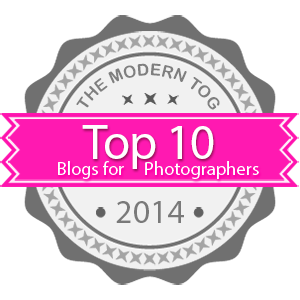 In the past year, I've seen tons of blogs start up, all promising to help you grow your photography business.
But which ones will actually help you grow your business most effectively? Who do I believe you should be following most closely?
I've narrowed down my list to my top 10 list of blogs for professional photographers (besides this one, of course) that I recommend following. There's plenty more to be sure, but these are the best of the best that teach you how to run a more profitable and successful photography business.
So here's the fourth annual list of Top Photography Business Blogs!
Top 10 Must-Read Blogs for Photographers for 2014
To get the most out of each of these sites I recommend that you sign up to follow them via email, since that will be the best way to make sure you're staying on top of some of the best advice in the industry. Many websites, like The Modern Tog, share a good deal of exclusive content that is only available via email. So don't just check the blogs; sign up for their email newsletters and follow them that way as well.
For the third year running, Psychology for Photographers takes the #1 spot. Jenika, the brilliant creator, is not only a photographer but has a master's degree in psychology. She uses her unique background and training to break down the psychology and reasoning behind how and why people make decisions – and applies these principles to the world of photography. Check out her free ebook, "How Clients Make Decisions About Money" to more clearly understand how to get clients to book you. It's excellent.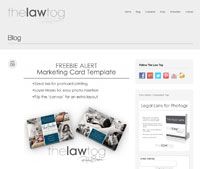 Rachel from the Law Tog is both a lawyer and photographer. One of her specialties includes writing legal contracts for photographers, and since she's both lawyer and photographer, you'll be sure to have all your bases covered when it comes to looking for legal advice for your photo biz. She also has a free ebook called "The Legal Lens" that should be required reading for all new photographers as it covers basic legal advice you'll need to know to run your business.
The masterminds behind A Camera and a Dream, Kim and Charo, have a combined experience of over 30 years in the wedding photography industry. Needless to say, they've learned a few things along the way and have culminated their experience into one hysterical and highly informative blog on anything from the business side of photography to client management and even product reviews. There's no sugar coating here, only straight-up honesty, advice, and a little bit of tough love (with quite a few laughs thrown in along the way). Definitely a must-read.
Joy has been in the photography business for years and grown her business from her basement to multiple studios. A total numbers and strategy nerd, she rocks the socks off of photography pricing and teaching you how to price for profit – something so many photographers struggle with whether they're new to the field or seasoned pros.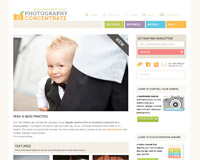 The Photography Concentrate blog is full of awesome information for photographers, and the creators, Rob and Lauren, put out some of the best photography tutorial ebooks on the market. Each one is broken down step-by-step into easily understood segments to make sure you grasp the entire concept, and cover a range of topics from editing tutorials and album design tutorials to photography composition tutorials and even basic camera skill tutorials. This is a great blog to follow if you are just getting started with your photography business.
The Tiffinbox blog contains an array of goodies focused on the world of photography written by photographers from around the world. There's interviews, tutorials, information on photography business, and more. You'll be sure to find something entertaining, interesting, or educational here.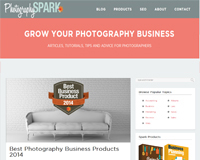 Full of useful tips, tutorials, and information about the business side of photography, Photography Spark has tons of great information geared just for photographers. You can even snag a free ebook on getting more traffic which will help you get more inquiries from your website.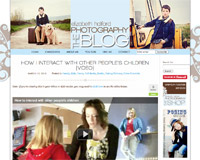 Elizabeth's blog is a wealth of photography information. Based in the UK, Elizabeth's blog covers everything from the technical aspect of taking photos and post-production to the business of photography. Basically, if you have a question about some aspect of photography, there's a good chance you'll find answers at Elizabeth's blog.
DED PXL was started by Zack Arias, a commercial and editorial photographer and promises to be entertaining and informative. Here you'll find a healthy mixture of everything, from studio lighting tutorials from Zack himself to essays from wedding photographers about why they hate wedding photography, and maybe even a squirrel named Carl (hey, I said a mixture of everything….)
Based out of Brooklyn, Spencer Lum from Ground Glass will give you, as he puts it, "…a kick in the pants, but wordier." Focusing on helping photographers build their brand and create a flawless sales process, you can be sure you'll hear it straight with no sugar-coating. Proceed onward only if you can handle hearing the truth.
Looking for the previous year's Top 10 lists?
There's definitely some awesome blogs from previous years that are worth taking a look at (even though they didn't make the list for this year), so feel free to check out my lists from 2011, 2012, and 2013.

Find this post helpful? Sign up for exclusive email tips to help you grow your photography business by using the form in the box:

Get Exclusive Tips via Email and Get a Free Ebook!

If you found this post helpful and you'd like to learn more about starting a photography business, sign up for my free ebook called "5 Common Mistakes That Lose You Business (and How to Attract your Ideal Client Like Crazy)".You'll also get exclusive tips sent directly to you via email every few days that can't be found here on the blog and are only for email followers.

Just enter your email in the form below to join now:


Full disclosure, many of the links above are affiliate links, however this was not a factor in determining rankings.
Comments
comments