I'm often asked what my favorite tools and resources are (or if I have an affiliate link for a certain product). So I decided to list out most of my favorite products and vendors that I use in my own business in one convenient place, making it easy for you to find the best in the industry in one awesome place. WOOT!
I'm very selective about the things that I promote, but I've seen each product or service below and can vouch that they are high-quality products that will help you make more money, provide awesome products to your clients, and all-around rock your business!
Do you love The Modern Tog?
Do you love all the free advice I share on The Modern Tog? I've got a GREAT way for you to say Thank You! and it won't cost you anything extra.
Would you please bookmark this page and visit it before making any purchases for your business? I make a commission from many of the links on this page, so it's a great way to say "thanks!" and help support me in sharing my best advice with you for free without having to charge for everything.
Can't find what you're looking for? Even if the exact product you want isn't listed, using a link to a different product from the same vendor will still credit me with the sale and pay me a commission. So just click through to the other product then navigate to the one you want.
Each time you do this, know that I'm giving you a huge *virtual high-five!* WOOT!
That being said, not all links are affiliate links. I linked to my favorites whether they have an affiliate program or not.
There's also a good deal of freebies mixed in with the other resources, so definitely read through carefully. I only promote freebies that are super-useful and come from reputable sources.
Click to view my various recommendations in the following categories, or simply scroll down the page to see them all.
Current Sales & Promotions
Business Essentials & Productivity
Gear, Products and Services
Website Resources
Pricing & Sales
Marketing
Blogging & List Building
Current Sales & Promotions!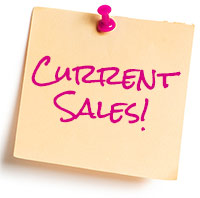 This is where I'll list current sales & promotions. If the promo is on-going, it is listed below next to the link.
There are several Black Friday & Cyber Monday deals coming out at the end of November. Sign up to my email newsletter to be notified of when the big list is available.
Business Essentials & Productivity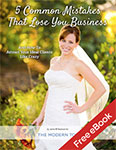 5 Mistakes that Lose You Business (And How to Attract Your ideal Client Like Crazy) (FREE)
Free ebook from The Modern Tog.
Easy Client & Money Manager
A simple Excel workbook that will make managing your clients and business finances a breeze.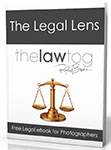 The Legal Lens (FREE)
Free ebook with legal advice every photographer should know from The Law Tog
Photography Contracts
Don't do business without a contract, as you're putting yourself at risk more than you may realize. If you're a US citizen, you can get these contracts drafted by Rachel Brenke, a Lawyer and photographer who understands the nuances of what needs to be included in order to protect you and your business.
How Clients Make Decisions About Money (FREE)
Ridiculously amazing free ebook from Jenika at Psychology for Photographers that will help you understand how clients make decisions about money. Every business owner should read this.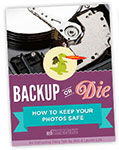 Backup or Die
Everything you need to know about backing up and protecting your images and business documents, written as a fun little fairy tale to make a boring subject entertaining. It's especially good if all that techy talk is intimidating to you and you just want someone to hold your hand and walk you through step-by-step. By Photography Concentrate.
Take Control of Your Inbox, Once & For All (FREE)
A blog series that starts super basic, but moves into more advanced tips that helps keep clutter out of your inbox but doesn't just delete it. This is how I manage to keep sane despite running two businesses and receiving a few hundred emails per day (no kidding). At the very least, check out Boomerang, which allows you to "hide" emails and have them come back to your inbox at a specified time and be marked as "new". Great for when you need to follow up to something in a few days and you don't want to forget but don't need to see it in your inbox in the meantime.
10 E-Mail Templates for Photographers (FREE)
This is a free sample of our Go-To Guide for Client E-mails, which has over 100 E-Mail templates in it. Check them out now! They are super useful and these 10 are totally free.
Go-To Guide for Client E-mails: 100+ E-Mail Templates for Photographers
This will teach you exactly how to respond to the most sticky and stressful of situations, as well as how to prevent them altogether. It'll help you develop a customer service mindset that will get people talking about how amazing you are, bringing in more clients because of it.
Photography Questionnaires for your Clients
These questionnaires are exactly what I used with my clients in order to make portrait sessions go smoothly and gather all the information we need in order to shoot a wedding effectively.
Extremely Essential Camera Skills
Want to learn how to use your camera to the best of your ability? This is a great guide to help you make the most of your gear know how to create various images. By Photography Concentrate.
Gear, Products & Services
I get a lot of questions about where I buy my gear. I don't have any stores within an hour of me that sell pro-level gear, so these are my three go-to online stores that I shop. I only trust
Amazon (when it ships from Amazon, not from other suppliers),
Adorama, and
B&H.
Custom Flash Drives
I buy my flash drives at Photo Flash Drive. You can read why I switched to flash drives instead of DVDs here.
Print Lab: ProDPI
ProDPI is by far my favorite for a variety of reasons. You should check them out.



Album Suppliers:
Vision Art for fine art albums
Red Tree for flushmount albums
Miscellaneous:
9 Photography-Related Valuable Freebies (FREE)
Tons of great free resources, from client management tools to how to overcome shyness as a photographer to camera recommendations. From Photography Concentrate (all their stuff is fabulous, actually!)

Lynda.com – Free 7 Day Trial
Lynda.com is my favorite website on the entire internet because I love to learn, and it teaches you how to learn how to use just about any program or software out there (including some really dorky coding things and such). I don't allow myself to have an on-going subscription because I'd spend all my time there, honestly, because I LOVE it. LOVE. It's the cheapest way to learn Photoshop, Lightroom, InDesign, WordPress, and hundreds of other programs and softwares without having to google for each little piece of the puzzle. Anytime I need to learn a new program fast and in-depth, Lynda.com is my answer.
Website Resources
The Ultimate Photography Website Guide (FREE)
Read this first if you are looking to create a professional photography website. It'll walk you through everything you need to know (even if you know nothing about creating a website) as well as how to get traffic to your website, how to convert that traffic into paying customers, and lots of blogging tips. The guide is completely free, just click over and check it out.
From Portfolio to Profit Engine: How to Build an Absolutely Irresistible Photography Website – Best ebook I've ever read about how to create a website and tweak the one you have so that it's ridiculously effective. Read this before you start work on your site. By Psychology for Photographers.
Web Hosting with Site 5
This is the company that hosts my site, and their customer service is amazing and downtime is very minimal. They'll even move your site over from your current host to their service for free. I can't recommend them highly enough.

Supercharge Your Photography Website (FREE)
Free ebook from Photocrati with tips on how to improve your website from various contributors (including myself) around the photography industry.
Gravity Forms
A WordPress plugin that allows you to create forms, contracts, quizzes, testimonials, questionnaires, and all sorts of other super useful things on your site. It's utterly amazing. You can see my wedding photography quiz by clicking here, and you can read more about the forms and why I love them here.

WordPress Themes
I highly recommend the themes from Photocrati, Theme Forest, Studio Press, or ProPhoto (get $10 off a ProPhoto theme using that link, woot!)
Pricing & Sales
Photographer's Pricing Guide Workbook
This is an Excel workbook companion to the Free Pricing Guide Series that does all the math for you, and helps you adjust your prices to take things like PayPal and credit card fees into account. It's worth every penny if you want to make sure you're not making any pricing mistakes and to make sure that you're not forgetting to add in any expenses.
Creative Pricing & Packaging
Ebook from Tofurious that has helped me to personally increase our average wedding booking by almost $2,000 per wedding over 3 years, all due to the tips and psychology shared about how to create packages that sell and encourage people to upgrade. It's one of my favorite ebooks ever if you choose to offer packages.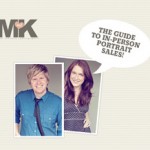 The Guide to In-Person Portrait Sales by Matt + Katie
This walks you through how they made over a quarter million dollars a year in a small town saturated by shoot-and-burn photographers using an a la carte method and in-person sales, despite Katie being extremely shy and scared of in-person sales meetings. Explains the psychology behind sales and tells you exactly what to say and why it works without coming across as pushy at all. Pure brilliance. Prefect for people who are trying to build a high-end boutique portrait business.
Preveal
Want to sell large wall prints & canvas collections? Preveal is by far and above the best tool for the job. It requires an iPad, but you'll pay for it in very little time and you'll be making way more on your sales than ever before. Check it out now.
Marketing

Email Marketing
Email marketing is one of the most powerful ways to get more sales and repeat clients, and it's by far one of the most under-used tools available out there. I highly recommend using AWeber because of its ability to do auto-responders (which is where you can really make money). Other free services, such as MailChimp, do not offer this functionality and so you lose out on a lot of potential income. Aweber will cost you less than $1 a day, so it's very cheap for such a powerful tool. Learn more about how to do effective email marketing here.
Sticky Albums
The best mobile marketing app out there that allows you to create custom mobile gallery apps for your clients. Read several ways to use it for mobile marketing here.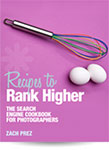 SEO Cookbook: Easy Recipes to Rank Higher
Zach Prez, internet marketer by trade, teaches you everything you need to know about how to show up in Google, even if you have no experience whatsoever with search engine optimization (or don't even know what that means). It's for people who want to be shown step-by-step what to do and have everything explained for them. While you can find much of the SEO information out there for free on the web, if you get nervous around terms like "metadata" then having a guide like this will save you much time and headache. It is also written specifically for photographers and shares strategies for picking keywords and optimizing your site so that you are attracting the type of traffic that will actually turn into clients.
5 Traffic Sparks for the Online Photographer (FREE)
Want to get more traffic to your photography website? Here's a free ebook with 5 quick things to implement to get you results fast. From Photography Spark.
Gift Registries: Ciderr
Businesses like Amazon, Target, and others make a significant amount of income each year from people creating registries for babies, weddings, etc. Use this beautiful, easy to use software to create custom registries where your clients can set up their own registry and as their friends and family to give them your products as gifts for their events. It's super great for word-of-mouth advertising.
Boudoir Marketing Guide
Want to get more boudoir clients? This marketing guide is for you.
Blogging & List Building
This section isn't as relevant for photographers unless you're looking to make money blogging doing something like The Modern Tog. I'm posting it here, however, because I'm asked all the time about how to make money blogging and what tools I use to do it.
Problogger: Secrets for Blogging your Way to a 6-Figure Income
Cheesy title, but it works. This pretty much sums up what I'm doing with The Modern Tog and how it makes me money (and how you can start your own site doing the exact same thing).
Office AutoPilot/Ontraport
This is a full management system that includes email lists, affiliate programs, membership sites, tracking, automated marketing, and way, way more. Pretty much brilliant, but expensive until you get about 10,000+ email subscribers. Will help you make the most of your list and contacts for sure. Similar to Infusionsoft, but without the crazy expensive fee up front to pay and geared more towards smaller businesses as opposed to big corporations.
E-junkie
E-junkie automates selling digital products online and allows you to have an affiliate program, and it's only $5 a month. So if you want to sell an ebook, templates, actions, presets, or any other digital product, you upload it to e-junkie, set up your payment method (such as PayPal), and then it gives you a special link that people use to buy it. When they use this link, e-junkie takes care of the cart, the payment, giving them a unique download link, invoicing them, and tracking your affiliate sales. It deposits the money into your account and you get an email saying "you've got money" and that's it. Super simple, super cheap, there's no limits to the number of transactions, and it doesn't take a cut of your sales at all.
MBP Ninja Affiliate
I use this to make all my affiliate links look pretty, as well as to track them and easily change them when needed without having to go back to all my old posts and change them. It also allows you to assign a keyword to an affiliate link so that any time you type it in your blog, it will automatically create a link without you having to. Spammy-looking sales page & email list, but the tool works great.
WP Subscribers
Use this to create various email opt-in forms and announcements on your site that all look beautiful, including header banners, footer banners, pop-ups, etc. For WordPress.

OIO Publisher
This allows you to automate advertising on your site. People can buy ads, submit ads, and pay for them without you touching anything, and it will rotate them and remove them when their payment runs out. Will save you tons of time tracking advertisers, and it's super easy to set up.
Coming Soon/Under Construction WordPress Plugin
This allows you to have a nice "coming soon" page (or under construction page) that shows up for anyone except yourself while you're creating your site. It'll also capture email opt-ins and give referral links so that you can ask people to promote your site and see who sends you the most referrals. You can currently see it in action at www.belovelyyou.com, a site I'll be launching later this year.
Thanks for checking these out!
Wishing you the best as you rock your business! Thanks for supporting The Modern Tog site with your purchases (it's super appreciated!)
Warmly,
Jamie