Or scroll down to learn more…

Most photographers I work with think that the only way they can build their portfolio is to shoot for free or in exchange for photos.
Yet there are some big problems with shooting for free.
You aren't making the money you need to grow your new business
You aren't building a client base of people willing to pay your prices later on
People don't take you seriously
It's hard to know when to start charging money
You are wasting valuable time and effort that could be used to make you money from the very start
Portfolio building for free is like shooting yourself in the foot. It is hurting your business from the very start, and you'll be losing out on a huge opportunity to create a client base and make money right from the start.

But it doesn't have to be this way.
By implementing this method, you'll:
Make money right from the start, even while portfolio building
Build a client base that knows your prices and is willing to pay them
Have full control over the look of the sessions
Build a portfolio that will help you shoot more of what you really love
Get testimonials that help you book new clients in the future
Refine your sales techniques and get tips on how to make make more money without being pushy
Be able to book paying sessions during slow seasons
Always get a model release
It'll even help you partner with other businesses and expand your social media reach, giving suggestions for how to get the word out about your business.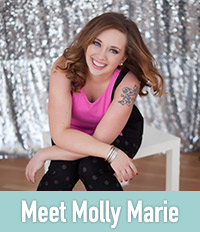 The Profitable Portfolio Builder is a step-by-step marketing strategy developed by Molly Marie to grow your client base quickly while getting the portfolio images you really want and sales.
The instructions provided in the E-book allow you to follow simple steps for booking creative, successful, and profitable portfolio building sessions where YOU have full creative freedom over the look and feel of the images.
When you buy the Profitable Portfolio Builder, you get:

The Profitable Portfolio Builder E-Book

In the E-Book, you'll learn:

Why the Profitable Portfolio Builder method is a better way to build your portfolio
How to get people to book portfolio building sessions with you
Exactly how to respond to people who want to book a portfolio building sessions in order to maximize the opportunity to get sales and long-term clients from the session
What you need to know and do ahead of time to get results
How to get the sale
The secret to getting powerful testimonials that influence others to book with you
Customizable Word-for-Word Scripts
Simply fill-in-the blanks to customize these for your business and start using them to book sessions.
BONUS: Seven Quick and Easy Collage Templates
Use these Photoshop templates to quickly create collages to encourage bookings and save time. Please note: Photoshop CS4 or higher is required.
Only 129.99 to get started booking profitable portfolio building sessions.
The Profitable Portfolio Builder method will work for anyone wanting to get a better portfolio or break into a new kind of photography, regardless of how much experience they have or if they have a studio or not.
However, there are 2 things you MUST have, or it won't work for you.
1. You have to take beautiful images that people are willing to pay for.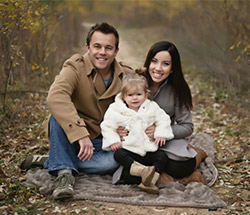 Every photographer fears that their images aren't good enough, so you're not alone if you're feeling unsure. Don't let this fear hold you back.
However, if you try this method and it just isn't getting you sales, you may want to ask for critique from a photographer you trust to be honest with you if you need more practice.
2. You've got to be willing to try it exactly as written.
This method was developed through lots of trial and error by Molly Marie, and by omitting even one part of what she shares with you in this book means you may be setting yourself up for failure.
Don't worry.
We're not going to ask you to turn into a slimy, pushy salesman.
We're not going to tell you to beg people to photograph them or ask you to change your pricing or product offerings.
We're not going to ask you to bribe people with wine, chocolates, or massages (even if that would work on us!)
But we will tell you EXACTLY how to book portfolio building sessions and sell products afterwards and you've got to be willing to try our method.
The Profitable Portfolio Builder is based on psychology and past experience, and if you leave anything out or modify a vital part of it, it may not work.
Yes. As long as you have a price list and social media accounts set up, you have everything you need to use the Profitable Portfolio Builder right away.
The Profitable Portfolio Builder method is good for most types of photography where the person booking the sessions is also the person who makes the buying decisions.
For example, it may not work as well for senior portraits because high school seniors may want to be in a portfolio building session, but since most parents would pay for the photos, you're less likely to have success with our method.
This method is designed to work with the following sessions:
Newborns
Kids
Families
Engaged Couples
Pets
Headshots
Maternity
Glamour & Boudoir
This method is NOT designed for senior portraits, wedding photography, event photography, stock photography, commercial photography, landscape photography, food photographers or fine art photography.
Only 129.99 to get started with the profitable portfolio builder method today.

If you follow the method exactly and do not book any portfolio building sessions from this method within 15 days of purchasing the Profitable Portfolio Builder, we will gladly refund your money.
We strongly believe that this method WILL work for you if you follow it exactly. So get your copy today, put it into practice, and start seeing results.

Click the button to get your copy now.
Just 129.99 to get started with the Profitable Portfolio Builder method now!